With 24/7 emergency heating service, we are here whenever you need us.
It's important to keep your furnace in working order to fend off those chilly, rainy days. At American Energy Heat & Air, we make your comfort our priority by promptly managing all of your heating concerns. With a 24/7 emergency heating service, we are here whenever you need us.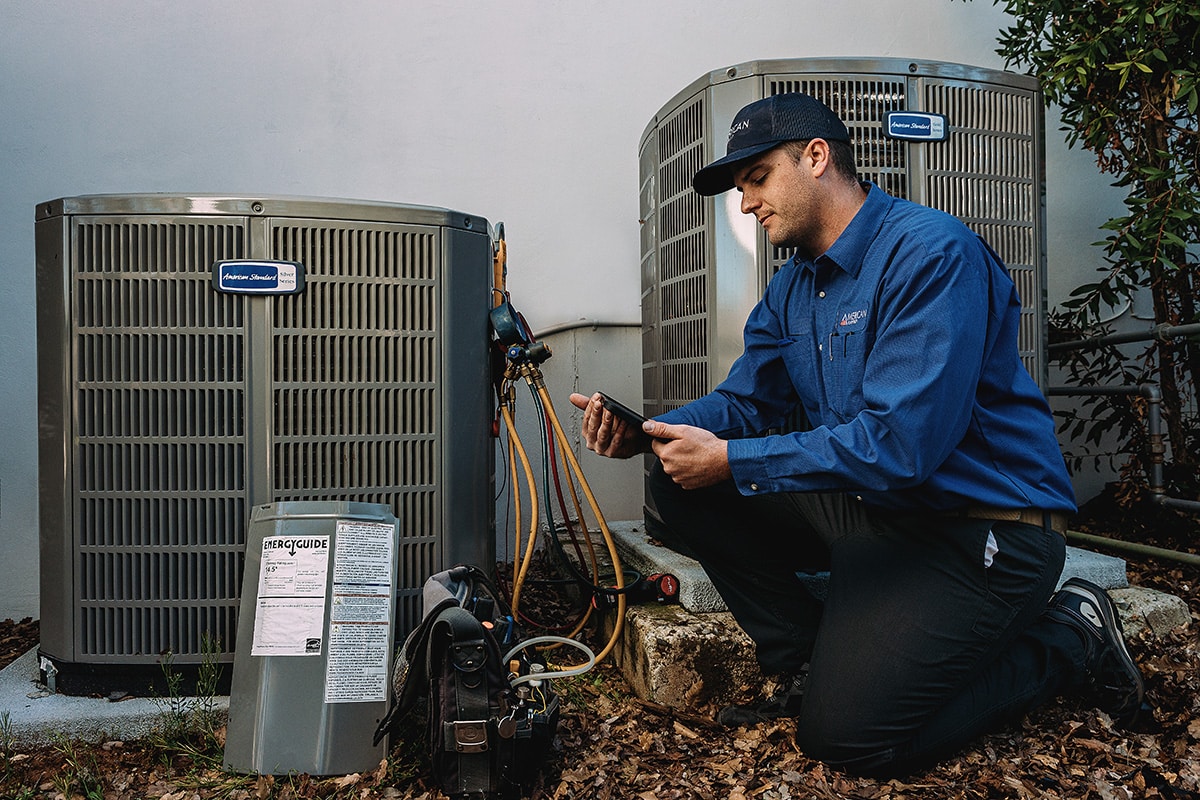 American Energy Heat & Air provides comprehensive heating services, including installations, repairs, and maintenance. We've been doing quality HVAC work since 1981, so we know how to quickly diagnose your issue, address your concern, keep your system running smoothly, and personalize your experience to focus on you and your comfort. 
Our maintenance plans help you avoid untimely heating problems by keeping your furnace working at peak efficiency before you run into major problems. 
Perks of our maintenance plans include but are not limited to:
Priority status

Longer lifespan for your furnace

Service and parts discounts

Waived overtime charges

Full compliance with extended warranty conditions

Lower monthly utility bills
Tips for Maintaining Your Furnace
In addition to our maintenance plans, there are things you can do at home to help increase the longevity and effectiveness of your furnace. 
It's understandable that many homeowners in the greater Sacramento area practice the "if it ain't broke, don't fix it" mantra. Everyone is busy and the only time you think about your furnace is when you first turn it on as soon as the cold hits. However, some basic advice and maintenance will go a long way to increase furnace efficiency and prolong the life of your furnace.
It's important to Change the Filter Regularly
First, it's critical to clean your air filter and replace it as needed. This ensures that your furnace isn't working overtime due to decreased airflow. Apart from also improving the overall indoor air quality of your home, a regularly maintained furnace could reduce your energy bill by as much as 15%.
Filters should be replaced every one to three months, with pet owners and smokers probably more often to maintain indoor air quality. Dirty air filters can worsen allergies, asthmas, and other illnesses. 
Listen for Noise
Pay attention to the blower motor and the furnace fan. A noisy furnace blower could signal a problem either with the blower wheel, or the blower's electric motor. A high, shrill sound could be two metal surfaces that are grinding against one another – the blower wheel could become loose from the blower motor's shaft and the noise is from the scraping of the internal housing. Whereas an electrical problem generally sounds like a loud humming noise. 
If it's making odd noises, such as a loud hum, we can help. Any unusual noises coming from the furnace is usually a sign that something needs to be looked at and should not be ignored. Our trained technicians will help you identify the source, educate you about the problem, and make changes before it begins to deteriorate the equipment.
Keep it Clean!
In order to heat your home properly, it's important to make sure that all vents are clear of furniture and debris, and checking each register regularly can help. Taking a vacuum to the area just inside the registers can be very helpful in keeping your air flowing properly.
Administer the "Eye Test" by giving your furnace a quick visual inspection. The venting pipe and other tubes such as the drainage tube should all be securely fastened and angled. 
The Blower Assembly: Found right next to the air filter, it can get as dirty as the filters and should also be cleaned. Usually, a damp cloth will work just great.
The Vents: Cleaning the vents is pretty simple and dirty vents will spread dust and pollen back into the house. More often than not, we just pull the vents off and vacuum them clean before putting them back again.
The Drainage Tube: Keep the drainage tube clear by detaching it from the manifold and blowing compressed air through the tube and drainpipe as well as pouring a cup of white wine vinegar
If you haven't cleaned your ducts in a long time, you can contact us and one of our trained professionals can perform a complete duct cleaning and sanitation. This can improve your system performance and ensure improved air quality throughout your living space.
Make SURE that the exhaust flue to the outside is clear for gas furnaces
There are three main reasons an exhaust flue needs regular attention: 
Carbon monoxide, nitrogen dioxide, and sulfur dioxide. 
These three components can be found in the fumes from your furnace, especially if it hasn't been serviced regularly. If the exhaust flue is blocked it can bring about very nasty health effects:
Nausea

Fatigue

Dizziness

Headaches

Heart palpitations

Collapse

Unconsciousness

Death
Combustion gasses might not be drafting safely up your flue because of blockage or back-drafting. If you suspect a problem, call American Energy Heat & Air immediately and have it checked out.
Is It Time for a New Furnace?
We don't like to install new furnaces unless it's absolutely necessary. However, all HVAC equipment wears out eventually, and we can help you determine if you need new equipment. You may have already started noticing some signs, such as:
Uneven heating throughout your home

Increased electric bills

Flu-like Symptoms

Excessive dust or dirt in vents

Burner flame color is flickering or has a yellow light

Visible damage to the furnace

Frequent service calls

Increasing furnace age (15 to 20 years old)