American Energy Heat & Air guarantees our air conditioning installation services.
American Energy Heat & Air guarantees our air conditioning installation services. With some of the most competitive prices in our area, an abundance of great reviews, and years in the industry, you will be glad you chose us.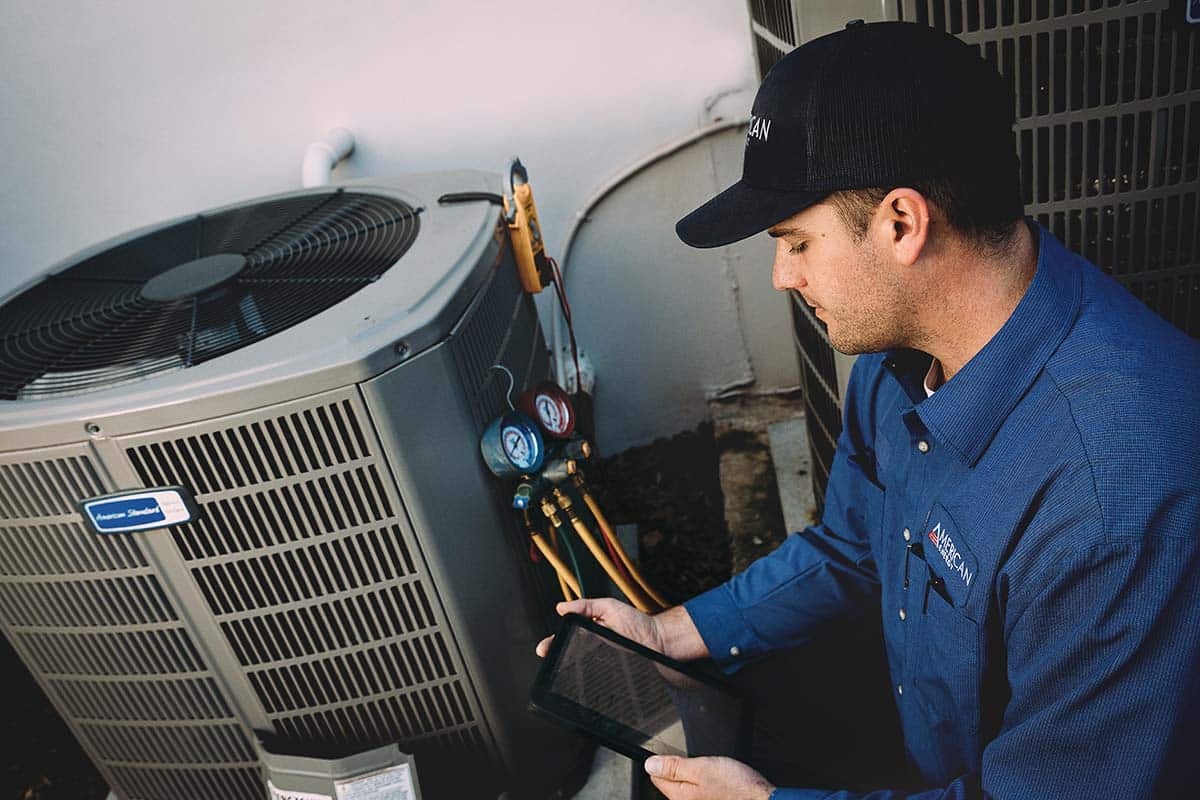 Air Conditioning
At American Energy Heat & Air, we know that a properly functioning HVAC system is the key to a comfortable home or business. We handle your concerns as timely as possible and with a personal touch while maintaining professional and ethical conduct. As a full-service HVAC company established in 1981, our trained technicians are your best choice for:
Preventative maintenance
Air conditioning service and replacement
Air balancing
Ductwork modification and replacement
Emergency cooling service and repair
NOTICEABLE SIGNS THAT YOU NEED HVAC REPAIRS:
Running Constantly, Not Shutting Down / Frequent Cycling
When you have set a temperature on your thermostat, your air conditioning unit will turn on and off automatically because it reaches the desired temperature and shuts off. This is called a cycle. However, if the unit is not cooling properly it will turn on more often to reach and maintain the required temperature that you have specified on your thermostat. Your HVAC unit will eventually start running constantly if the equipment is failing and the unit is always struggling to reach cooler temperatures. A sure sign that you need HVAC repairs!
Blowing Warm Air
Our well-trained technicians will quickly trace and diagnose the specific issue and make the necessary HVAC repairs.
Climbing Utility Bills
Without regular maintenance, HVAC units become less efficient, especially so as the equipment becomes older. Joining our Maintenance Program may put a stop to increasing utility bills.
Reduced Indoor Air Quality
Disagreeable smells, heightened allergy symptoms, more frequent respiratory illnesses, or large amounts of noticeable airborne particles near your vents or returns are the obvious signs of declining indoor air quality. In most cases, proper cleaning with a maintenance schedule can solve these issues. With our top-of-the-line air indoor quality testing equipment, we can provide instant indoor air quality readings to help you better understand the safety of your home.
Unusual Sounds and Hissing Noises from the HVAC Unit / Leaks
HVAC units are inherently noisy things, but a noise that needs special immediate attention is a hissing sound! The most obvious sign of a Freon (refrigerant) leak is a hissing sound that you can hear even when the unit is turned off. But an unrepaired Freon leak is dangerous to your health and will ultimately cause the HVAC Unit to fail to work at all. Some of the things you might notice when this happens are rising power bills or a system that is unable to reach the desired temperature. If this happens, turn it off immediately and call American Energy Heat & Air. Neglecting to address this issue can damage the system and result in a failed compressor, which is a very costly repair. It is important to get any of these symptoms checked out by a well-trained technician quickly. Unrepaired leaks are not only dangerous to your health, but fixing them quickly will save you money, safeguard your AC, and keep you healthy.
RELIABLE NEW AIR CONDITIONING INSTALLATIONS
Most people think twice and try to use the right company when it comes time to replace air conditioning equipment. A new air conditioning installation is quite a major investment.
CALL NOW FOR A SECOND OPINION ON REPLACING YOUR SYSTEM & OUR $49 TUNEUP
Load calculations
A load calculation determines the amount of heating and cooling a home requires. We look at the layout and consider all the options to determine load calculations of the thermal dynamics in your home. Together we will review the square footage of your home, measure every room, count every window, all the exterior doors, and even keep in mind which way your home is facing.
R-ratings
R-Value measures how well insulation can resist heat flow. In other words – R-Value helps you understand how well the insulation around your ducts will prevent heat conduction, so we're actually talking about how well it prevents heat from entering or escaping your ducts. If you're thinking of getting new ducts in your home or you want to add insulation to them, you need to know the R-Value.
No surprises
All employees and staff at American Energy Heat & Air are honest and upfront about all pricing. You will find that there are no hidden costs or extra fees waiting for you around the corner. Of course, we'll discuss the differences in prices and efficiency that different HVAC units offer, but we'll also make sure to discuss all of our many ongoing specials and manufacturer's specials so that you'll end up with the best prices possible. We also provide financing options, including 0% financing, and rebates for customers who qualify.
Our valued customers have trusted American Energy Heat and Air to provide them with superior air conditioning services for decades. The satisfaction of home and business owners throughout Greater Sacramento and Placer County is our top priority, and we achieve that goal through skilled workmanship and a personalized experience.