How Often Should Homeowners in Sacramento Service Their HVAC System?
Your HVAC system must be regularly serviced for optimal performance. Read our guide about HVAC maintenance to learn when and how yours should be serviced.
(916) 520-9990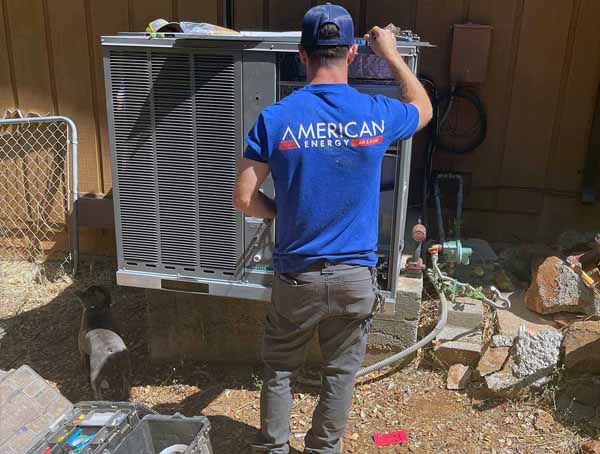 HVAC Maintenance in Sacramento: How Often Should Yours Be Serviced?
With the weather warming up, many of us are starting to prepare our homes for the spring and summer months. You may be cleaning up your yard from winter debris, clearing out closets and drawers, and bringing flowerbeds and gardens back to life. One additional to-do you need to add to your list is getting your HVAC serviced.
Staying up to date on your HVAC maintenance can keep your family safer and more comfortable this year. Read on to learn when you need to get your HVAC system checked and why it's important.
What Does HVAC Servicing Involve?
Before we dive into the details of when you should get different components of your HVAC system serviced, let's talk about what that servicing involves and why it's important. The most important part of this service is the inspection. Your technician can let you know about any problems that might be starting so you can take care of them before they reach a critical point.
Your technician will start by examining your indoor and outdoor units and making sure everything appears to be in good working order. They will test the systems and also the thermostat to ensure they are functioning properly. Finally, they will check your ducts for leaks, pest damage, and other problems that could interfere with your HVAC function.
Stay More Comfortable
One of the best reasons to do HVAC maintenance in Sacramento each year is so you can stay more comfortable year-round. It's an unfortunate truth that these systems tend to go out at the worst possible moment. When the weather is at its most extreme, your HVAC system is carrying the heaviest load and is most likely to break down.
Getting your HVAC serviced can help you spot and fix problems before they ever become problems. Instead of trying to get your system fixed in the dead of winter or the heat of summer, you can address problems during the milder months. You'll stay more comfortable, and you'll save money on emergency service calls! 
Improve Your Home Safety 
Did you know that servicing your HVAC, especially your furnace, can help to keep your home safer? Gas-powered heating systems in particular can suffer damage that you may not see during the summer. When you turn them back on in the winter, these systems could start leaching toxic levels of carbon monoxide into your home and could pose a fire hazard. 
Luckily, you can prevent this danger to your home and your family. Experienced technicians will recognize the signs of a damaged furnace and can replace any broken parts before your heat ever kicks on. You'll sleep easier (and warmer) at night knowing your furnace is in good working order.  
Air Conditioners
In general, you should plan on getting each component of your HVAC system serviced before it goes into full-time use for the season. In the case of your air conditioner, this means you should plan this maintenance in the spring. Depending on where you live, this could mean getting your system checked as early as February or March. 
As you might imagine, demand for these service appointments can go up in the springtime. It's best to call early and schedule your appointment well before you need your HVAC up and running. Plan on getting your air conditioner serviced before your region's average last freeze date, at the latest.
Furnaces
Like your air conditioner, you should plan to service your furnace before it has to go into full-time use. For furnaces, this means making this appointment in the late summer or early fall. If you live somewhere that gets particularly cold, you may want to plan this service almost as soon as the kids go back to school.
Keep in mind when you're scheduling your heat pump maintenance that nights in your area may get cold long before winter truly sets in. If you have a thermostat that switches automatically between hot and cold, your furnace could be kicking on sooner than you realize. Plan on scheduling this service long before you expect to need heat in your home.
Heat Pumps 
If you have a heat pump, your maintenance schedule will look a little different. As the name suggests, these systems keep your home comfortable by pumping heat from one location to another location. In the summer, it pumps heat out of your home and into the air outside; during the winter, it pumps heat out of the outside air and into your home. 
Given that heat pumps pull double duty, they need double the maintenance. It's a good idea to get your heat pump checked twice a year to make sure it stays in good working order. As with air conditioners and furnaces, this maintenance should happen in the early spring and fall.
Learn More About HVAC Maintenance
Staying on top of regular HVAC maintenance can save you money, keep you more comfortable, and make your home safer. Plan to get your air conditioner serviced in the spring and your furnace checked in the fall. If you have a heat pump, you'll need to get it serviced twice a year since it's pulling double duty.
If you'd like to learn more about HVAC maintenance, check out the rest of our site at American Energy. We believe in a better customer experience, and we've been making America proud since 1981. Schedule an appointment with us today and let us exceed your expectations of the heating and air industry.